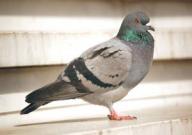 A pigeon is being held under armed guard in India on suspicion of being on a secret spying mission for Pakistan.
The culprit was found to have a ring around its foot and a Pakistan address and telephone number stamped on its body. Officials have stated that nobody is allowed to visit the bird.
Indian police are holding a pigeon under armed guard after it was caught on an alleged spying mission for arch rivals and neighbours Pakistan, according to reports in local media.